Radhanagar beach
Radhanagar beach is one of the finest beaches in India and was named Asia's best beach by the Time magazine. The beach is located in Havelock Island which is by far the most popular island in the Andaman and Nicobar group of islands. The beach is open all year long and is flooded with visiting tourists throughout the year. The beach has a wide water front and spans over a few kilometers and the whole area is surrounded by thick forests. The scenery is absolutely eye-popping.
The beach is a green zone and is maintained very clean with strict littering restrictions. The beach is very popular with surfers from all over the world because of its huge waves. The beach is ideal for swimming and some family beach fun, so bring along your swim ware and do take a dip in the crystal blue waters. The beach a few resorts in close proximity which serve lunch and dinner.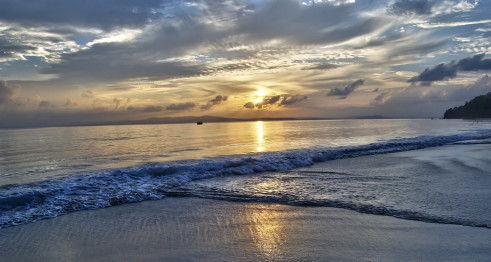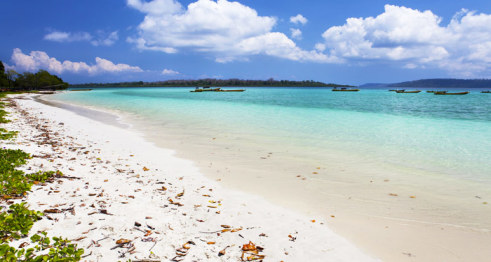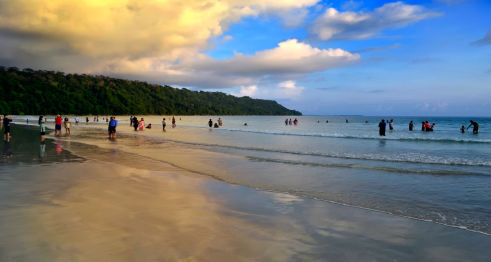 Radha Nagar beach is a favorite of honeymoon couples who love going on a quite stroll along the seashore and witness the almost postcard perfect sunset. The beach is far from civilization but care has been taken to provide basic facilities for tourists. There are shacks which are free to use and have been built all along the beach. The beach also has separated changing rooms for gents and ladies which are maintained rather well. Although there are no big shops near the beach one can find small roadside sellers who sell essentials and people who rent out snorkeling kit and other swimming gear.
How to get to Radhanagar Beach
Daily ferry and cruise services connect port Blair to Havelock Island where the radhanagar beach is located. For more info on how to get to Havelock click here. For cruise ticket bookings click here. Radhanagar beach is about 15kms from Havelock jetty. You can hire a cab or an auto to get to the beach. The roads are pretty narrow and can be filled with potholes during rainy season.
Tips for travelers
Open from 06:00 am to 07:00pm
Distance from Havelock jetty: 15kms
Popular activities: swimming, snorkeling and surfing
Long stretches of white sand, clean and quite beach, spectacular sunset and loads of beach activities.
Best time to visit-open all throughout the year, swimming is not recommended during heavy rains (June-September).
Other Places to visit in Andaman
To enquire about packages Click Here